Discovering Sapa: A Comprehensive Guide to Visiting Vietnam's Northern Hill Station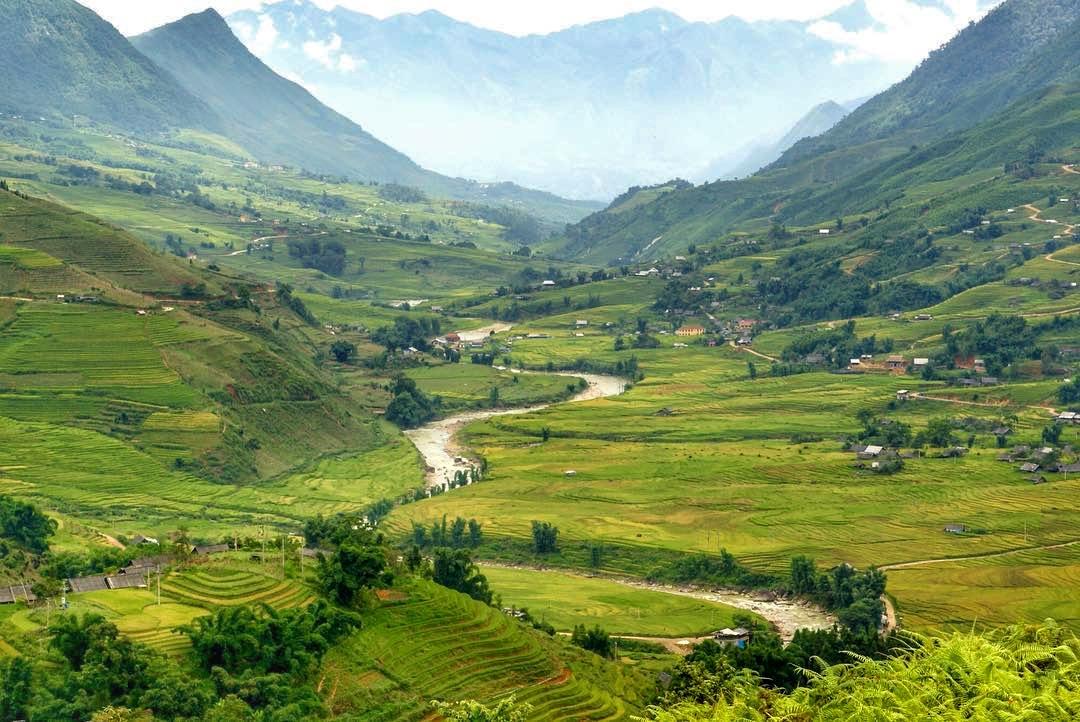 Discovering Sapa: A Comprehensive Guide to Visiting Vietnam's Northern Hill Station
14:21 - 03/03/2018
All you need to know about Sapa in one place! Follow through on the links for more thorough information. Sapa is famous for its landscapes of verdant rice paddies, rolling hills, Vietnam's highest mountain, and trails in overgrown valleys. While coming here for a trek far off from the noise and pollution of the big cities inspires wanderlust, organizing it can be daunting, especially for first-time visitors. To get a
Sapa – Touching the Clouds in Vietnam
Located in north-western Vietnam about 350 kilometers from Hanoi, Sapa is one of the most scenic places in the country. At 1,650 meters in height, the town of Sapa is nestled in a valley surrounded by the Hoang Lien Son mountains. The city also looks up at the country's highest peak, the imposing Mount Fansipan. If you're up for it, you can get a local guide to take you the top. It's not the easiest trek but the view from the summit (3,143 meters/10,312 feet) is absolutely worth it.
Apart from the rocky mountain ranges, the verdant fields and never-ending rice paddies will make you fall in love with Sapa. Home to countless local species of birds, animals, and plants, this is every nature lover's paradise.
Get up early in the morning to witness the sun rising from the clouds and watch small villages appear from the mist as if by magic. Wander through dense forests and hear only the sounds of the flora and fauna, and travel through small villages where kids will come to greet you with a high-five and a huge smile.
Whatever else you plan your trip to Vietnam, this should absolutely be part of it!
Sapa's History and Background
Originally, the town we know as Sapa today was founded by the French in the very beginning of the 20th century. They used it as a hill station in the summer to escape the heat of Hanoi and enjoy the clean air and beautiful views of surrounding mountains.
Due to the independence movement in the 1940s, the city was heavily bombed and nothing was left but ruins. Only in the 1990s did Sapa st/art to see new infrastructure with the goal of attracting visitors again.
Today, these efforts are paying off. Sapa is once again the number one destination for hikers and trekkers wanting to explore Vietnam's beautiful countryside, learn more about local culture and customs, and get to meet and interact with members of the famed hill tribes.
Ethnic Minorities in Sapa
The mountains, valleys, and hills around Sapa are home to over twenty groups of ethnic minorities. The Hmong, Dao, and Giay are the largest and most well-known groups and make up about 50% of the local population. Some of the smaller groups such as the Phula, Hani, and Latis are often only represented by one or two small villages with a few hundred individuals.
The fact that every tribe has their own language, clothing style, and set of traditions and customs makes Sapa one of the most culturally diverse areas in the country, if not in the region.
Traditionally, these groups are known for farming, growing rice as well as other crops, and raising livestock such as cows, pigs, chickens, and horses. While many hill tribes still do this kind of labor, others have started to work in the tourism sector. This includes guiding treks for visitors, hosting guests for homestays, or making and selling traditional style clothes and accessories to tourists.
What to See and Do in Sapa
Sapa is a place rich in natural beauty and cultural heritage, making it a wonderful place to explore. Take a few days here so you have time to get to know this unique place in order to appreciate its diversity.
Sapa's Markets – Shopping for Local Handicrafts and Trekking Gear
Sapa and the surrounding towns have a number of markets where you can get both local handicrafts and anything you might need for your trek. In the city center, close to most hostels and hotels you will find the main market offering a bit of everything including traditional clothing items, souvenirs and hiking gear.
Spread around the city, you will find many more little shops offering handmade items such as bags, musical instruments, or other locally designed items. Be aware that many of these places will charge higher prices than markets outside of the city.
While you can find many nice things in the city, the better place to get them is at truly local markets in the small towns outside of Sapa. If you want to be sure you're getting the most beautiful and original products at fair prices, and that the money goes to the artisans rather than re-sellers at the tourist market, read our guide to shopping in Sapa. That way you know you made a good deal and supported local craftsmen at the same time!
Trekking in Sapa – An Absolute Must
If you've made your way to Sapa, chances are you want to go for at least a one-day trek. Since there are so many routes varying greatly in terms of difficulty, length, and beauty, it's best to get a local guide. That way you can be sure to explore the best areas all while staying safe. The added bonus is that you will spend a lot of time with your guide, giving you the chance to learn more about the local culture, customs, and way of life.
How to Get a Guide in Sapa
There are two options: you can pre-book a guide (either just for you or with a group) through an agency in Hanoi or Sapa, or you can meet a guide directly when you arrive in the city. When you get off the bus at the main station, you will see many of them offering their services.
Usually, you don't have to approach them as they will come up to you if it's clear that nobody has come to pick you up. Since their English is generally quite good, it will be easy for you to find out what they offer (one-day treks, homestays, etc.) and negotiate a price with them.
While this is a great way to get a better deal than at an agency and be sure that the money goes to the family directly rather than to a middleman, it can also be slightly risky. Although these guides will certainly take you for a trek, some of them may lead you to trails that are so overrun by tourists that they feel more like a conveyor belt rather than the calm, picturesque paths you were hoping for.
Since there are so many different ways to find a guide and organize your treks as well as many things to be aware of, we will create a detailed article about how to get a good guide, where to go, and what to watch out for 😉
Sapa Trekking Adventure with Onetrip
Onetrip is a two-fold socially conscious company, aiming to give tourists the most local experience while enhancing local people's lives. There are many options for the trekking tours such as one-day or two-day lengths, and short or long routes. Joining a tour with Onetrip means that you won't need to worry about tourist traps, instead you'll focus on exploring the hidden gems.
For the Sapa trekking adventure, you will have a guide from the Red Zhao ethnic minority who will lead you through beautiful rice terraces and various tribal villages off the beaten path. You will have a chance to observe their daily life, join some ethnic activities, and also cook dinner with these incredible people. If you choose the two-day option, then you will be able to stay overnight with an ethnic family. The activities above do not make up your full itinerary, you'll have to book the tour to find out.
Climbing Mount Fan Si Pan
At 3,143 meters above sea level, Mount Fan Si Pan is the highest peak in Vietnam and even all of Indochina. This makes it a highly attractive destination for many trekkers as it provides some of the most amazing views of the surrounding valleys, mountains and rice fields.
When preparing for your trek, be aware that it is highly recommended to join a tour with a professional guide both for safety and legal reasons (you will need a permit which your agency will easily arrange for you). Do some research to find a tour operator with good reviews and check what kind of treks they offer.
Organized tours start at around 120 USD per person (for the two-day, one-night option) and usually include necessary gear such as sleeping bags and tents as well as all meals during the trek. If you don't want to go in a group, you can always as for a private tour for you and your friends. That way you can go as quickly or slowly as you need and take all the photo stops you like without making everyone wait for you.
There are several ways to get to the top of the mountain, varying greatly in terms of difficulty and length. The shortest and most direct ascent via the Tram Ton Trail can be done in one day if you start very early.
If you would like to add a night of camping on the mountainside, ask to do the Sin Chai Trail. It's longer, and more difficult but includes a night of sleeping in a tent under the stars.
And if you're really serious about the whole trekking thing, you can even go for a three-day, two-night excursion via the Cat Cat Trail. It is by far the most difficult but also the most rewarding as it is less crowded and offers amazing views and breathtaking scenery you would miss the other two trails.
Having said that, all three trails are absolutely beautiful and worth the visit, so start doing your research and get booking!
There are many more things to consider when you are planning your ascent of Mount Fansipan, so we have created a dedicated article on this topic.
Other Places to Visit While in Sapa
Apart from exploring markets and climbing Vietnam's highest peak, there are several other places to visit and things to see in and around Sapa.
Ham Rong – The Jaw of the Dragon
While it was created as a tourist attraction, don't let this idea scare you off. Ham Rong is very much worth a visit thanks to its seemingly endless gardens full of orchids and other local plants and flowers. Especially in the springtime, this place is truly magical as it's full of blooming peach, plum and cherry trees, creating a sea of fragrant blossoms.
While you're there, climb to San May, the Cloud Yard, the highest point of Ham Rong, to get a view of Sapa town and the surrounding area. When fog sets in, this place makes you feel like you are walking on a bed of clouds, looking down on the rest of the world.
The Silver Waterfall
Just about 12 kilometers outside of Sapa you will find the Silver Waterfall. There is a small entrance fee of around 20,000 VND which is totally worth it. Go for a short walk there and soon you will come across a charming bridge and the waterfall. At about 200 meters high it's quite impressive, so take some time to relax, absorb the beauty of nature and get some excellent photos.
The Sky Gate
The Sky Gate is just a short distance from the entrance to the Silver Waterfall and is a secret tip for anyone who is looking for a breathtaking view of Sapa's mountains and forests. As there are no signs for this place, hardly any tourists know about it.
To get there, keep going past the Silver Waterfall until you reach a kind of clearing. From there you can reach the viewpoint in a few short minutes. Get ready to be amazed at the endless expanse of hills and greenery enveloped in clouds stretching out in front of you.
The Rattan Bridge
Another wonderful place to make you feel like you are walking on clouds is the Rattan Bridge. Cloaked in mist, this place will give you the eerie sensation of floating since, at times you can hardly see the ground below and it seems like you are actually drifting through space.
Lao Chai, Cat Cat, and Ta Phin Village
If you want to learn more about the local hill tribes, going to their villages is a great way to do that. Just a few kilometers outside of Sapa you will find places like Lao Chai, Cat Cat, and Ta Phin village where tribes such as the H'Mong and the Red Dao still live very traditional lives.
This includes making beautiful handicrafts, jewelry, and fabrics as well as farming. Take this opportunity to buy souvenirs and gifts directly from the people who make them. That way you can get a good price and be sure they are getting the money for their work.
The Ancient Rock Field
For the history buffs, the ancient rock field in Muong Hoa Valley is a must. It's a collection of around 200 boulders (some as large as 15 x 6 meters) that are full of carvings depicting humans, stilt houses, animals and scenes from the everyday lives of the ancient people who previously inhabited the valley.
The two most famous stones are Da Chong (the Husband Stone) and Da Vo (the Wife Stone). It is said that they show the story of a loving couple that is together for eternity now that they have been immortalized in stone.
What to Eat in Sapa
Thanks to its temperate climate, Sapa is a great place to grow many kinds of vegetables. Stop by a wet market to see the huge variety of delicious fresh veggies including cabbage, chayote, and many kinds of medicinal herbs you've probably never seen before. Apart from greens and herbs, of course, there are also plenty of other yummy things to try here when hunger strikes.
Lon Cap Nach is a traditional local grilled pork dish that literally means "grabbing the pig by the arm." It is made from a special breed of pig that is left to roam in the wild and is caught once it weighs about 7-10 kilos. To catch it, the pig is "grabbed by the arm," hence the name.
Com Lam is a great side dish to get with Lop Cap Nach or other kinds of meat or chicken. It's made of sticky rice that is filled into Neohouzeaua (a local bamboo variety) and cooked over fire. This gives the rice a wonderful aroma of charred bamboo, making for a special taste that is impossible to recreate with any other cooking method.
Thang Co (bone soup) is another specialty but is only something for the adventurous foodie. Made with all kinds of ingredients from the horse, including bones, blood, meat and even organs, this fragrant and flavorful soup is extremely popular among Vietnamese visitors to Sapa but definitely not for everyone.
If this all sounds like a bit much, don't worry, you will easily be able to find other Vietnamese food as well as all kinds of international restaurants in Sapa.
Where to Stay in Sapa
From fancy hotels and eco-lodges to simple hostels and homestays, you'll find pretty much everything in Sapa. Note that while you are staying in the city you will likely find rooms offering all the comfort you would get in hotels elsewhere including A/C and western-style toilets. Once you head out on a trek though, things will look very different.
Hotels and Hostels in Sapa
As mentioned above, there are plenty of hotels and hostels to choose from in Sapa. Depending on what level of comfort and service you are looking for, prices vary greatly. While simple hostels start at about 10 USD per night, more luxurious hotels will easily charge 100 USD. Here it really depends on your budget and your preferences.
A great place to book a room is in Cau May Street. It's quite central and very close to all the bars, cafes, and restaurants. If that's a bit too much action for you, there are some great boutique hotels on the edge of the city that offer more tranquility. Getting into town from these places will take a bit more time though, so be aware of that when you are planning your trip and have to meet guides or groups at a certain time.
Homestays
If you have chosen to go on an overnight excursion to explore Sapa's surroundings, you will likely be sleeping in a homestay. As many of the small towns and villages you'll pass through don't have hotels, this is the only option if you don't want to head back to the city for the night. And if you want to get a bit farther away from the main trekking routes to the paths less traveled, that's the only way to go.
When you opt for a homestay, whether you book it through an agent or directly with a local you meet at the bus station in Sapa, be aware that you will be staying in someone's home. Often these houses are shared with three generations and are very simple compared to most travelers' standards.
This means that there likely won't be a Western toilet (rather a squatting toilet and a bucket to wash up) or shower (again there will be a bucket with water). The food will probably also be very simple and shared with the whole family while sitting on the floor. While this is very different from what most visitors are used to, it's a wonderful way to experience a different style of living first hand and get to know local people.
It's very generous of them to take strangers into their home so it's important to be respectful of what they offer you. Approaching your homestay with an open mind will make it a delightful adventure full of fun and surprises, which you will cherish for years to come.
As many of the guides and homestay hosts have children, a nice touch is to bring some gifts for them. This can be something simple like a set of colored pencils, notebooks or some candy. Showing your appreciation for them like this will go a long way and make for even more special memories.
Christina's – Maison de Sapa
Sometimes it is difficult to find suitable accommodation in Sapa because the local experience is paramount in beautiful places like this but you also don't want to sacrifice comfort. Christina's Maison de Sapa is an outstanding house suitable for a mid-range budget. Expect a nice restaurant with both Western and Asian cuisine on the ground floor, a billiards area for entertainment, fully furnished and well-decorated rooms, and a spectacular view from your room window. While these details are certainly outstanding, the friendly staff who warmly welcomes and takes care of you from the beginning of your trip to the end will be the highlight.
How to Get to Sapa: Choosing Between the Bus, Train, and Car
When going to Sapa you have several options that vary greatly in terms of comfort, cost and time spent on the road. Since there is no airport in Sapa, you'll have to choose between a train, bus or car ride.
By Train
The train is a great means of transportation when heading to Sapa. It offers a reasonably priced and decently comfortable alternative to going by car and bus and makes it easy to get to know other travelers.
There are several trains a day with the overnight train being the most popular. As it's a nine-hour ride, it actually gives you the chance to rest and feel energized when you get to Sapa. If you've planned a full-day trek on your first day, this is something you want to keep in mind when booking your trip.
To get train tickets, you can ask your hotel or travel agent in Hanoi for help. They can give you all the details concerning timing and the different cabins that are available. Train services to consider are the Sapaly Express and Fansipan Express. They provide excellent service, value for money and clean, comfortable cabins.
Also, be sure to book your return ticket right away. Many visitors to Sapa have found that getting a ticket there is difficult and overpriced as there are many scammers trying to get extra money out of tourists. The normal fare for a roundtrip in a standard cabin should be around 250,000 VND (private sleeper cabins will be a good bit more).
Once you get on, pop in some earplugs and try to get some rest until you reach Lao Cai, where you get off the train and on a one-hour bus ride that will take you to Sapa. This is another part where you need to watch out. In Lao Cai, there are a lot of scammers that will try to sell you overpriced tickets.
Inform yourself beforehand where buses leave so you can head there without falling prey to any tricks. If you book your trip via an agent in Hanoi, they will help you find your bus by sending someone to the platform to pick you up. To be sure you get where you need to be, this is probably the best solution.
By Car
If you want to book a private driver to Sapa, check with your hotel's reception. Hiring a driver comes with advantages. You can stop anywhere you like on the way and timing is flexible. However, it is a good bit more expensive than the bus or train though. Since you still share the bumpy roads with armies of motorbikes, buses, and minivans, your ride might not be as comfortable as you'd hoped.
By Bus
When starting your trip from Hanoi, you can take a direct bus to the hill station. If you don't get carsick from bumpy, winding roads and don't mind speeding through traffic at (Vietnamese buses are known for reckless driving) then booking the bus could be part of your adventure. If you want to be on the safe side though, the train is the better option.
However, if you want to get to Sapa more quickly and without having to change (taking the train requires a change in Lao Cai) and you want to watch your budget, the bus could be your way to go.
Muvv – An Online Transportation Platform
If you want to make it easy on yourself, you can book transportation with Muvv. Pick between a nine-seat limousine, car, or train depending on your group's needs. You only need to provide your information and everything will be set up by the Muvv team. Expect a reliable driver, meticulous service, fast reply, and easy process.
Climate in Sapa: When is the Best Time to Go
The best time to visit Sapa is from March to May and from September to November. During these times the weather is quite stable and sunny. This means warm days and cool nights, the perfect weather for trekking in the mountains and experiencing a homestay. Keep in mind though that Sapa is famous for going through "four seasons in one day": chilly mornings, warm days, windy, cool afternoons, and cold nights.
If you come in the springtime, you will witness the mountains waking from their winter sleep. Fields and hills will be green and full of flowers. Many Vietnamese people even travel to Sapa after the Lunar New Year to enjoy the local season of cherry blossoms! Autumn is also a great time to visit as this is when the rice fields are ready for harvesting, weaving through the valleys like golden ribbons. Needless to say, this is an absolutely priceless view.
Since the average temperature in Sapa is around 15°C, it never gets quite as hot as places like Hanoi, but summers still get pretty warm, especially when you are working up a sweat as you climb mountain trails. July and August are also the wettest months of the year. During this time, you risk getting caught in downpours while you're out trekking. While this doesn't have to be dangerous, especially if you're with a savvy local guide, it can be quite uncomfortable.
The winter time can get quite cold and if you go to Sapa between December and February. You need to bring warm clothes, especially for the night. In recent years, it has snowed several times during the winter months so make sure you are ready for that!
What to Bring for Trekking in Sapa
Visiting Sapa is quite different from going to most other places in Vietnam and requires you to pack a few things you might not need otherwise. Also remember that if you go on treks, you will probably stay in different places every night. This will make bringing your whole suitcase or backpack a huge hassle. It is best to leave your big bag with your accommodation in Hanoi and pick it up after your return. For your trip, it's enough to bring a small backpack with the essentials for a few days.
Apart from the obvious toiletries and the change of clothes, here are a few other things you should pack or consider getting once you arrive in Sapa.
Pro Tips:
Backpack and a small bag: For your trip to Sapa, bring only enough for the few days you're going there and keep those things in one backpack. Usually, the tour operators will transfer your bags directly to your homestay for you. Everything you need during your trek should go in another small bag that you can carry with you on the way.
Sunscreen/sun protection: This is especially important during the summer months. Sapa's high altitude increases the UV index which can cause nasty sunburns. If you're traveling from a place where the sun is not as strong, your skin isn't used to it. Bring a hat, light long-sleeved shirts, and pants to protect yourself from the sun if you really don't like the sticky sunscreen.
Insect repellent: This is a good idea anywhere in Vietnam but if you're planning on hiking in Sapa's mountains, it's a must to avoid itchy bites or diseases that mosquitos and leeches (yes, leeches) might be carrying.
Lightweight rain jacket: If you're in Sapa during the rainy season, this is a must unless you're okay with getting wet. Since the local market in the city offers a wide selection of rain jackets, it's not a problem if you've forgotten to pack one. But be aware that all the fancy North Face outfits you see there are knockoffs. The usual price is about 200,000 – 300,000 VND, so be ready to haggle if they ask for more than that.
Warm clothes: While Sapa can get rather warm in the summer, the winter months get very chilly. Be sure to have a sweater, jacket, hat, scarf or whatever else you need to stay warm with you or get it at the market in downtown Sapa. If in doubt, it's better to carry an extra sweater rather than freezing on the mountain.
Proper hiking shoes: Trekking trails in Sapa can be muddy, slippery, or covered in loose gravel. Wearing regular sneakers or tennis shoes could result in slipping, sliding or even injury and that's really not something you want to happen when you're miles from the next doctor or hospital.
Band-Aids: Chances are you'll get a blister or two, or even a few scratches. Keep some band-aids, disinfectant wipes and fresh socks with you.
Earplugs: You'll be sharing homestays, buses and trains with all kinds of people and the noises they make (whether on purpose or not). Unless you sleep like a rock, these are essential for a good night's sleep.
Power bank: While your homestay is likely to have electricity, there might not be enough plugs for everyone in your group to charge their phones and cameras at the same time. Make sure to fully charge your devices overnight and bring a power bank with you. Also, keep your electronics in a closed Ziploc bag just in case you end up in a downpour and your bag isn't as waterproof as you thought.
Light snacks: Trekking in Sapa can be hard, especially when it's hot and if you lack experience. If you're one to get lightheaded, it's a good idea to carry light snacks when you take breaks along the way. Although meals are usually included in tours, an extra energy boost along the way can work wonders and make the trip so much more enjoyable.
With all these tips about how to plan your trip to Vietnam' scenic north, you should be overcome with wanderlust and ready to pack your bags and head out the door. But before you do, make sure you do all your research so your time in Sapa will be everything you hoped for and you won't miss out on any of the incomparable natural beauty, unforgettable experiences and the friendliness of the local people.